This NativePath content is medically reviewed or fact-checked to ensure factually accurate information.
With strict editorial sourcing guidelines, we only link to academic research institutions, reputable media sites, and, when research is available, medically peer-reviewed studies. Note that the numbers in parentheses (1, 2, etc.) are clickable links to these studies.
The information in our articles is NOT intended to replace that of a qualified healthcare professional and is not intended as medical advice.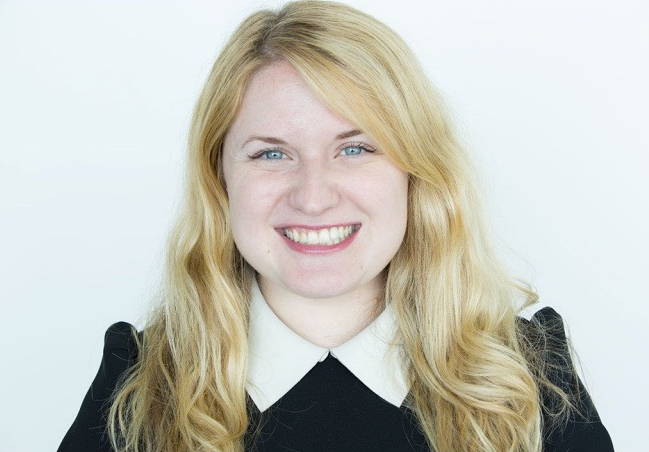 These 8 Celebrities Embraced Aging After Menopause—and Haven't Looked Back
Aging is something that we all have in common. Some of us take a pro-aging stance—letting wrinkles signify a life of laughter and good dinner parties. While others opt for a plethora of anti-aging regimens like botox and fillers to "erase the hidden battle scars" that growing older brings.
That's what Julia Roberts and Diane Keaton have to say, anyways.
Whichever end of the spectrum you find yourself on, one thing is for certain: embarking on life after menopause has a level of confidence, wisdom, and natural beauty that can only be acquired through decades of living.
Just ask these 8 celebrities in menopause who are embracing every moment of it…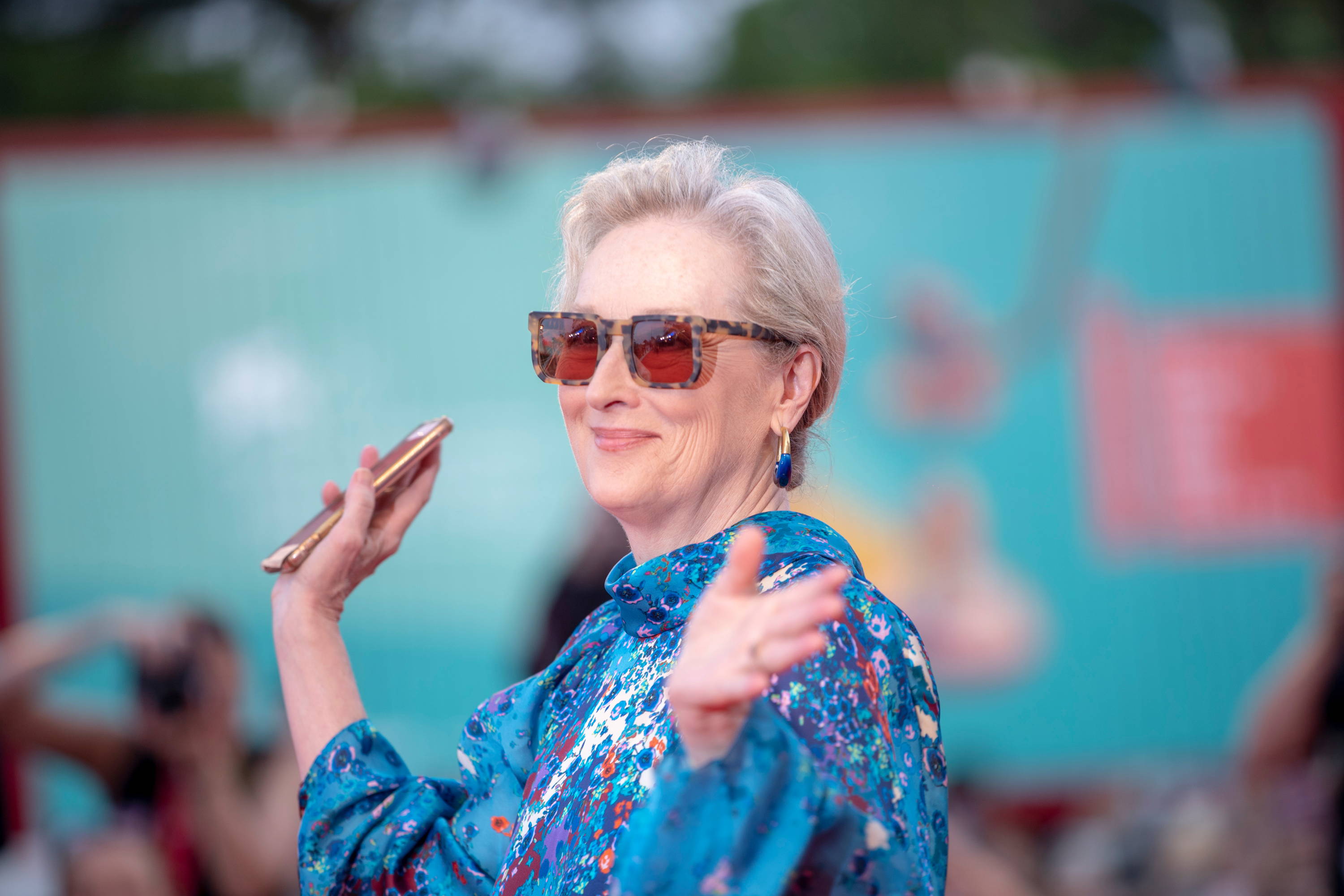 At first, Meryl Streep expected her career to hit a screeching halt when she reached a certain age "I remember as I was hovering around 40, I thought each movie would be my last, really," she told the Wall Street Journal in 2016. "And all the evidence of other 40-year-old women at that time—this is 27 years ago—would lead you to believe it was over." Instead, she kept starring in success after success, and pays it forward by financing screenwriting labs for women who are over 40.
Meryl has decided to take on aging the natural way. "To each his own," she told Marie Claire. "I really understand the chagrin that accompanies aging, especially for a woman, but I think people look funny when they freeze their faces."
One of her secrets to happiness through the years? Strong connections with friends and loved ones…
Meryl is known among many of her costars for throwing dinner parties in between filming. "She would be like, 'Come over! I'm making this.' 'Come over! I'm making that,'" Margo Martindale, Meryl's co-star in August: Osage County told Vulture. "She has an enormously large family, and she cooks breakfast for all of them. Usually, it's like twelve people there. She cooks for everybody. I think it's one of her joys." Meryl is on the right track in sharing this joy: research has found that strong social support systems are linked to longevity (1)!
Julia Roberts has long asserted that she doesn't plan to intervene much with her face's natural aging process. "It's unfortunate that we live in such a panicked, dysmorphic society where women don't even give themselves a chance to see what they'll look like as older persons," she told Elle in 2010. "I want to have some idea of what I'll look like before I start cleaning the slates. I want my kids to know when I'm pissed, when I'm happy, and when I'm confounded. Your face tells a story...and it shouldn't be a story about your drive to the doctor's office."
Julia feels that "aging gets such a bad rap." She describes a trip to the dermatologist, "I went to a dermatologist recently for a skin check and he looked at the side of my face and says, 'oh, do you want me to fill this in?' Fill them in? You know how many good stories are in there? How many good laughs? How many great dinner parties? Fill them in? What are you talking about?"
One anti-aging step Julia does take is to never skip out on sunscreen. "As a responsible parent with three kids who love to be outdoors, I rely totally on a good sunblock," she told People. It's no surprise that research links sunscreen to anti-aging. In one study, participants who used sunscreen daily showed no signs of skin aging over the course of 4.5 years (2).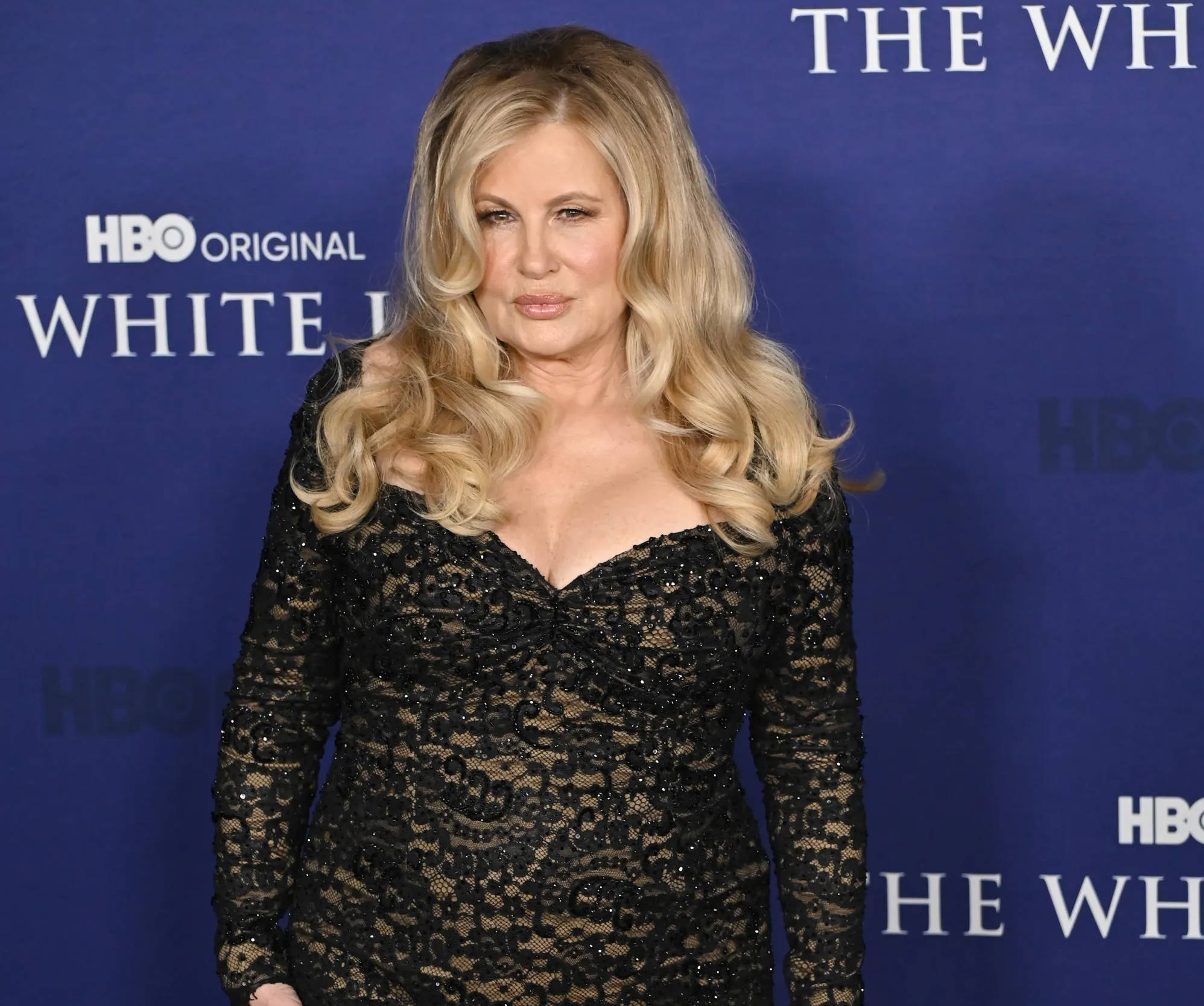 Jennifer Coolidge popped back into our hearts and minds over the past few years thanks to her smashing success in hits like The White Lotus and The Watcher. To the 61-year-old, the key to enjoying every moment is to drop your expectations at the door. "It's way more enjoyable if you never expected the moment to happen," Jennifer said recently. "I think it's the surprise of it all that makes it so fun. I truly believe that if I had expected all of this to happen, it would never have happened. Sometimes, I think I don't even want to analyze it. I don't wanna jinx it."
Jennifer knows a timeless truth about getting older: it's never too late to make your dreams come true. "I think a lot of people…want to have a chance at something they thought was a missed chance, and I think I'm a good example of that," she told CNN. "However long this ride is, I'm gonna ride it."
Along the way, Jennifer is keeping things glam and prioritizing skincare. She has sensitive skin, and her mainstays include rose quartz face rollers and cooling, depuffing serums. Studies have found that face rollers may help improve blood flow in the face, which is a great way to keep glowing as you age (3).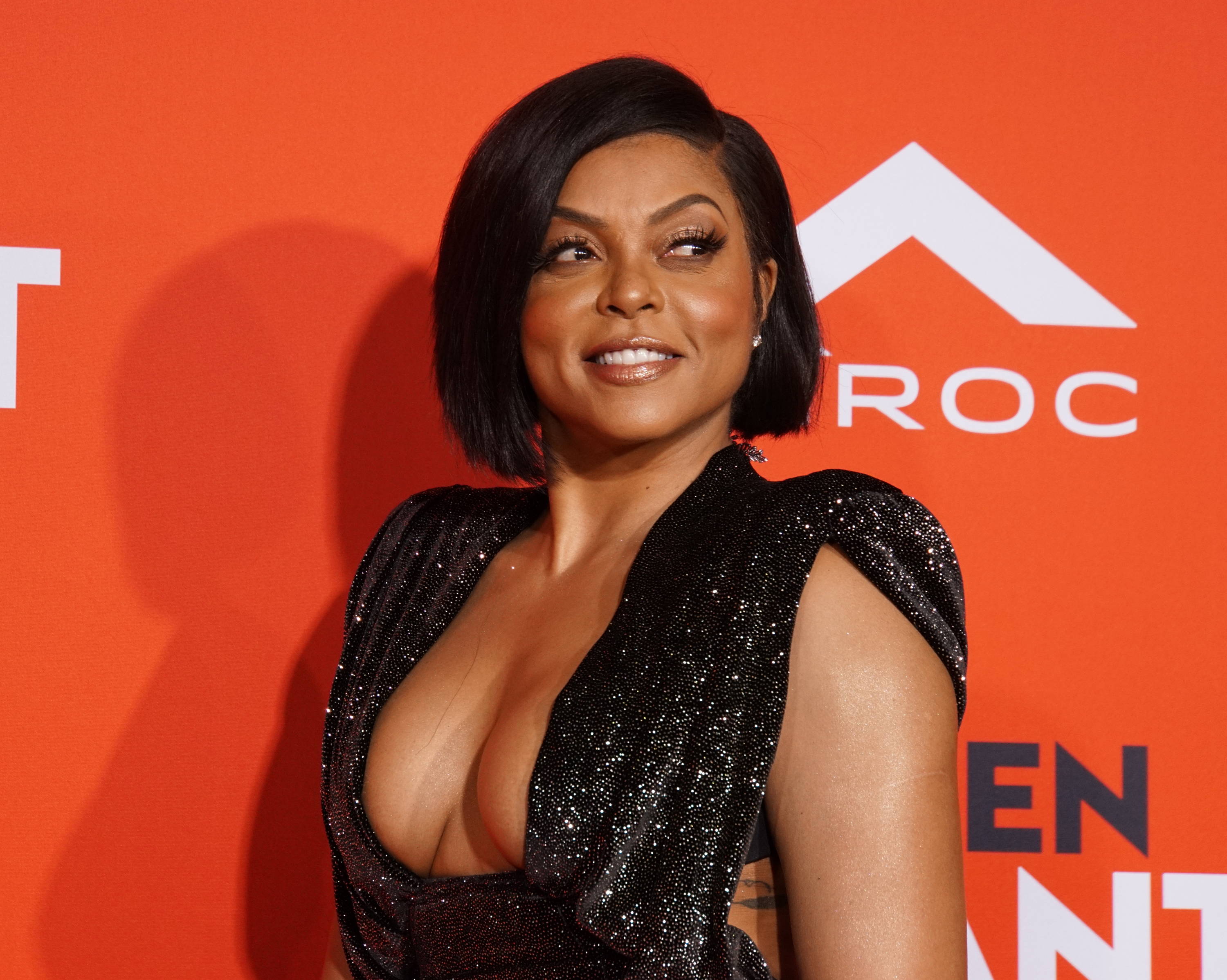 "I want to be the representation for women that your sexy […] never dies until you're in the box," Taraji said on the Kelly Clarkson show.
For Taraji, it's all about attitude. "Listen, it's how you feel. I decided I wasn't going to allow the world, the men of this industry to dictate how I live my life and how I age. I'm going to turn 50 just like I turned 30, except, you know, my knees are a little different. But I'm not going to buy into 'my career is over' or 'life for me is over' or 'my sexy is over' or 'I shouldn't wear this.' I'm going to do what I feel."
Taraji is proud of her second act of success. "It is quite groundbreaking, isn't it?" she told W Magazine. "It's supposed to be over for me…but here I am. I'm a late bloomer, and I'm okay with that. Know why? Late bloomers last looong."
To stay her healthiest self, Taraji focuses on all facets of her well-being, including her hair, skin, fitness, and mental health. She even launched her own hair care line to help others do the same!
Her focus on healthy aging hit a turning point in 2020, during the darkest days of the COVID-19 pandemic. She didn't realize how much she was hurting and shutting down until one morning when she woke up with a Cheeto stuck to her face, surrounded by crumbs in her bed. "That's when I realized I had to do everything I could to feel good, or that depression thing was going to get the best of me," she shared with Women's Health. Fitness was her main path to feeling better: "When I get those endorphins going, I'm like a whole different girl." Taraji is spot on: exercise can make you feel happier and age better (4, 5).
She also shifted her focus to eating healthier and caring for her emotional well-being. Once she felt better, she even had the energy to dive into a brand new passion: singing! Taraji released an EP in 2021 and hasn't stopped singing since. "I want people to know that it's never too late for anything. You can get your health together and live out your wildest dreams."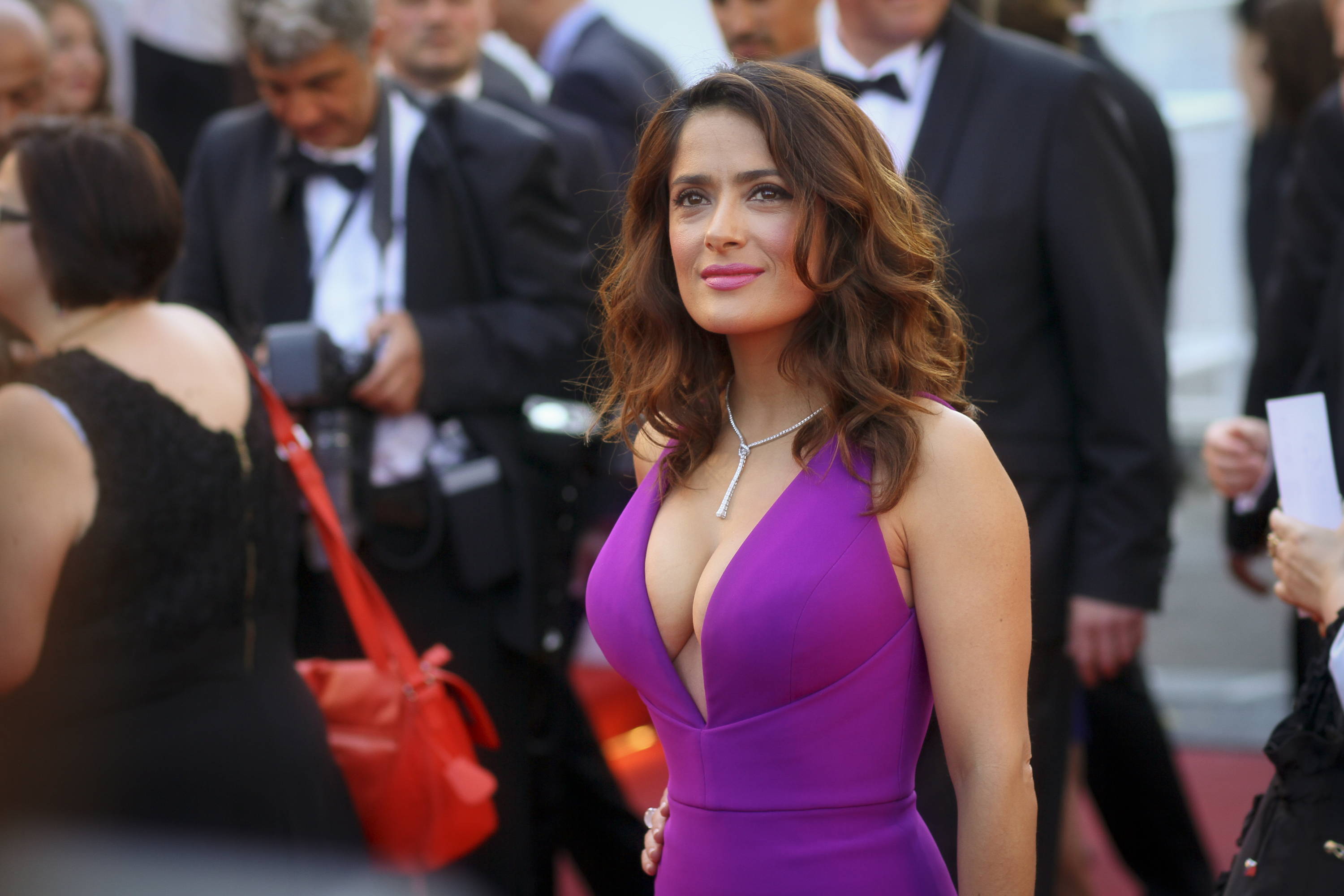 Salma Hayek wants to see more representation of life after 50 in the media. "When I was going through menopause myself, I wondered, How come nobody talks about this in the movies?" she said to AARP Magazine.
In her view, aging can be an exciting season of renewals. "Growing old, to me, has to do with repetition," Salma Hayek told AARP Magazine. "Something gets old when you've done it for a long time. If you're always changing, if you're always curious, how can you be old? You're someone new today."
She told People that she doesn't have the time or interest for any type of exercise that feels like punishment or a chore. Instead, she sets her body up for healthy aging with simple habits that make movement feel fun and easy. For starters, she works her muscles even when she's not visibly exercising. "I work with a woman in London who taught me how to hold my body in a way where the muscles are activated all day long," she said. "So even when you brush your teeth, you're working the muscles." These moves, Salma explained, come from yoga. "It's restorative yoga. She taught me to tone my muscles without clenching them. You relax them and focus on the parts that need to be used, but never with tension. If you're aware of your body, you'd be surprised by the effect it can have."
Another favorite way for Salma to sneak in exercise is by walking her dogs each day. She jokingly calls her pups her "trainers" on Instagram!
Salma's on the right track. Yoga is just as effective as stretching and strengthening exercises in older adults, and getting 10,000 steps or more per day is associated with a lower body fat percentage (6, 7). Even better if you're getting those steps with a four-legged friend: dog ownership is linked to a significantly decreased risk of death in the long term, and a reduction in heart-related mortality (8)!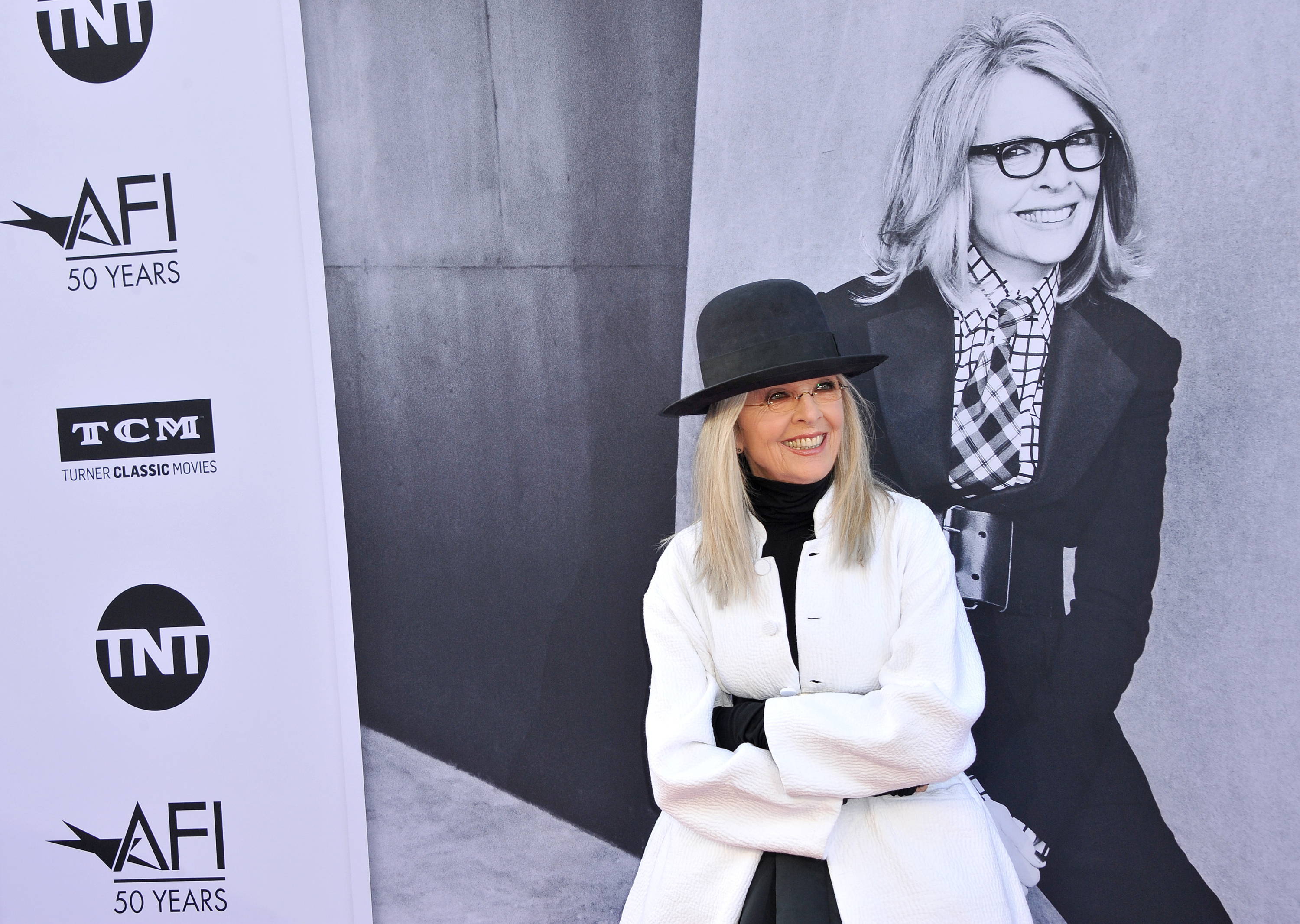 Like many celebrities who found fame in their younger years, Diane Keaton is still adjusting to this wise new chapter of her life. What she loves most about older age, it seems, is the confidence and freedom that comes along with it.
"I tell myself I'm free to do whatever the hell I want with my body," she writes in her memoir, Let's Just Say It Wasn't Pretty. "Why not? I may be a caricature of my former self; I'm still wearing wide-belted plaid coats, horn-rimmed glasses, and turtlenecks in the summertime. So what? Nobody cares but me."
She also writes, "I don't see anything wrong with face-lifts or Botox or fillers. They just erase the hidden battle scars. I intend to wear mine, sort of." The actress told People that she takes on the physical changes of aging with time on the treadmill, flattering hairstyles, and lighting.
One thing she knows for sure? She doesn't feel any less vibrant in this phase of her life. "I never understood the idea that you're supposed to mellow as you get older," she told AARP Magazine. "Slowing down isn't something I relate to at all. The goal is to continue in good and bad, all of it. To continue to express myself, particularly. To feel the world. To explore. To be with people. To take things far. To risk. To love. I just want to know more and see more. The best part is that I'm still here and, because the end is in sight, I treasure it all more."
Diane stays joyful and grounded through gratitude. "Every day for the last few years I have a little chat with myself," she writes in her book. "Okay, Diane…your hands still wash your face. You can still feel hot water. See's Candies peanut brittle is still your favorite dessert. The wild parrots on the telephone wire outside your bathroom still sing to you every morning, and just like them, you're still a live animal. Be grateful for what you have, you big jerk…stay curious, energized and engaged, and to let go of your concerns as much as possible."
Research has found that gratitude is greatest in older adults! And gratitude is continually linked to well-being, no matter what age you are (9). It's a great approach for cultivating joy no matter where you are in life.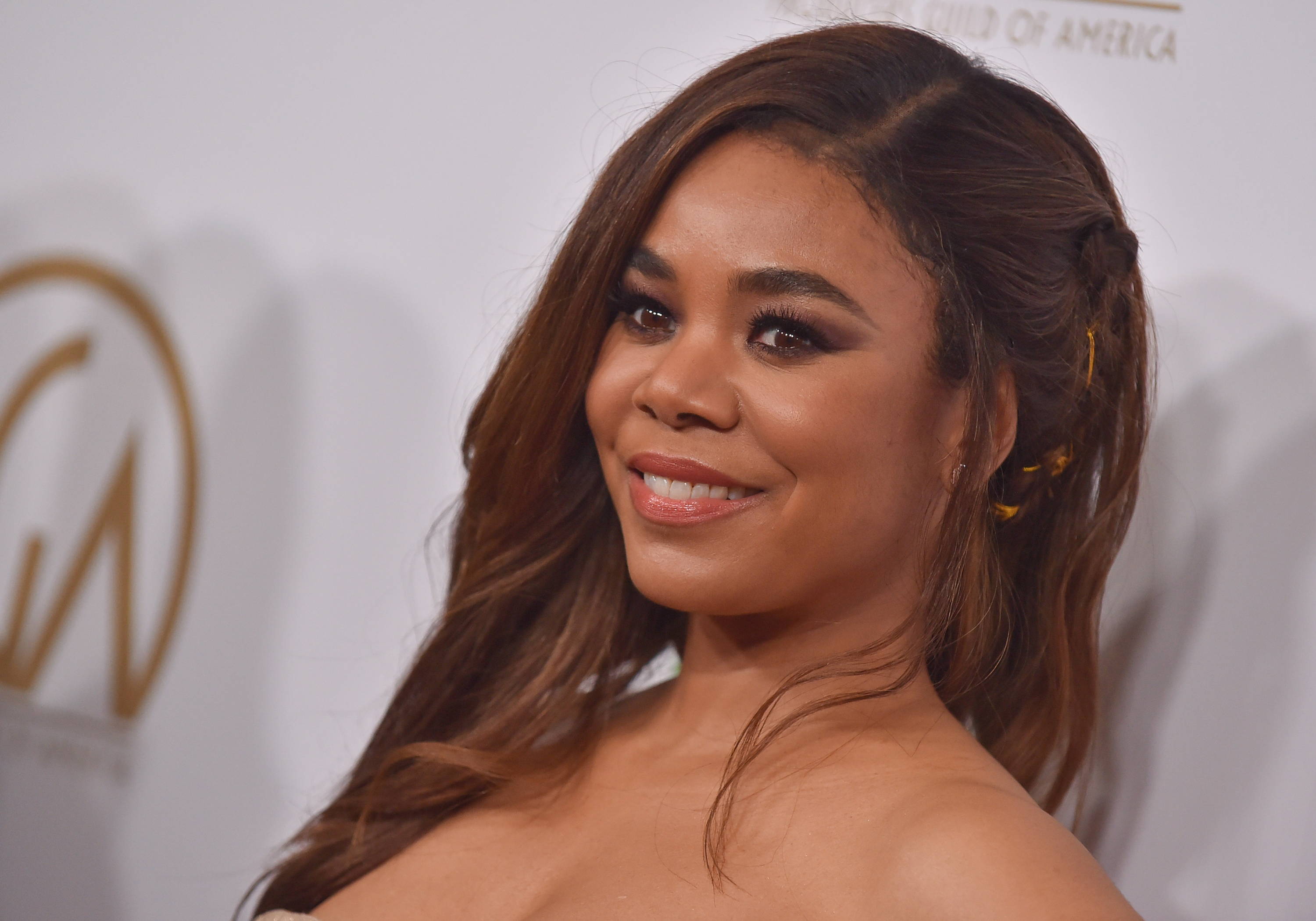 Superstar actress Regina Hall is embracing aging, too—calling this chapter of her life her "fox season"!
"I'm happy to be alive…because the other option is death," she said on the Ellen show. "You're either going to get older every year or you're going to die."
For Regina, aging glamorously is all about starting on the inside. Regina told Glamour that she makes sure she gets plenty of collagen by loading up on bone broth several times per week. (NativeTip: another easy way to get your daily dose of collagen is with a scoop of collagen powder in your coffee).
Research backs this wellness ritual: regular collagen supplementation has been found to reduce or delay the aging effects of the skin by improving elasticity, hydration, and the appearance of wrinkles (10).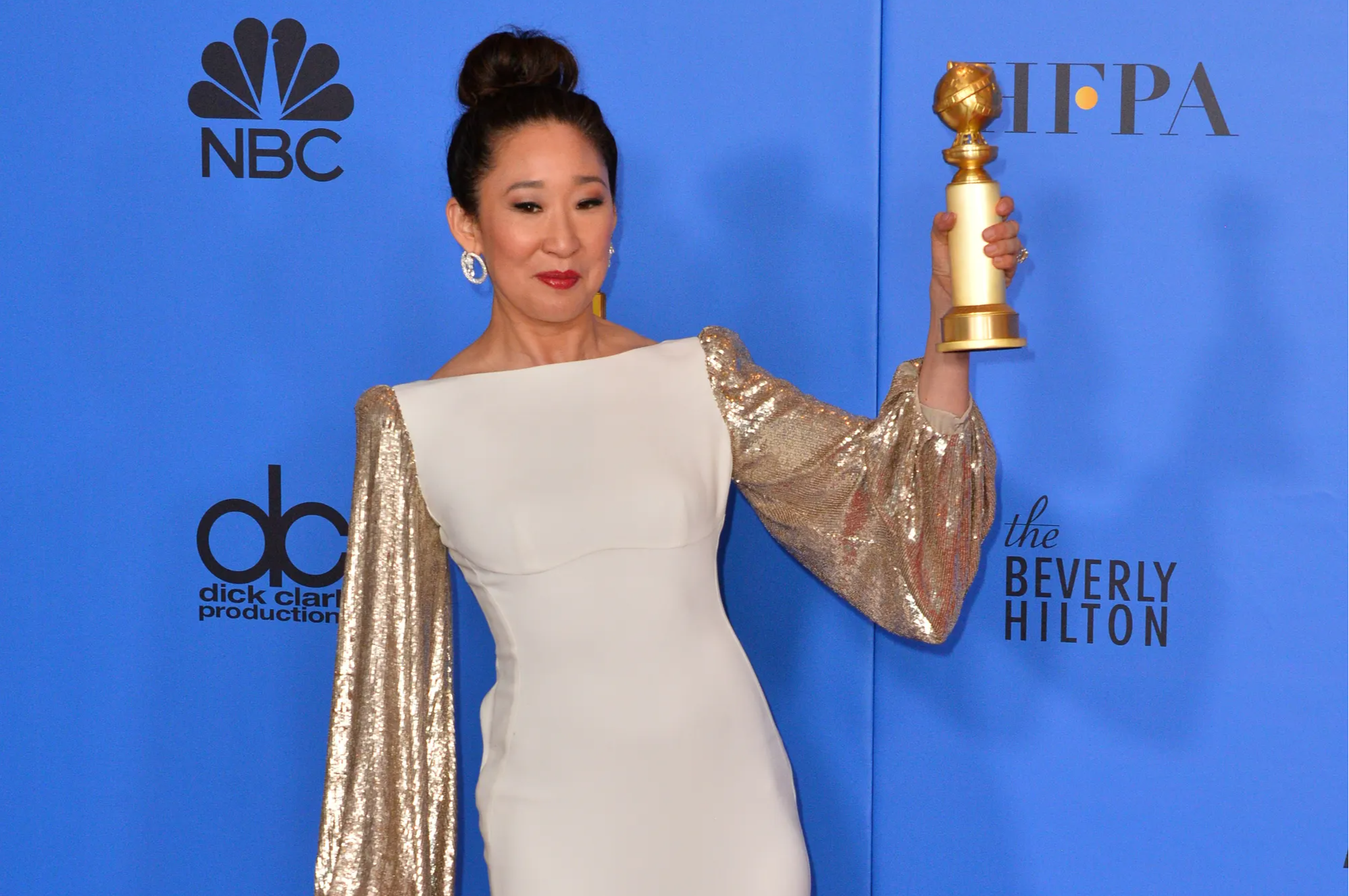 Sandra Oh feels more confident than ever as she grows older. "Aging is the greatest," Sandra said to W Magazine. "It really gives you more space to be that person…who has always been inside."
"I was more insecure when I was 20 than I am at 47," Sandra shared with InStyle in 2019. She recalled a recent moment when she was asked to pose for a photo shoot in a Gucci dress that was decked out in tiny mirrors. "At 47 it's like, 'You need me to put on a crazy dress with mirrors? Yeah, sure. I'm going to work the s*** out of this!' I don't know what I'm doing…you give less f***s."
Sandra loves the level of maturity that comes with age. "I'm extremely grateful to be in the midlife part of my life—being well into our lives and our careers—because you have a certain amount of agency, a certain amount of power and a certain amount of understanding what the deal is," she told AARP Magazine. "You have an inner resilience. You realize, as we mature, there's less and less that you can control. The only thing is, 'Can I freak out differently?'"
One of Sandra's top secrets for keeping her skin youthful is acupuncture. "Growing up and until my gosh, early-mid 30s, I had terrible, terrible skin," Sandra shared in an interview. During her time starring in Grey's Anatomy, Sandra started seeing an acupuncturist who turned things around. Acupuncture helped Sandra manage the inflammation on her face caused by eczema, asthma, and allergies. "This was not an overnight thing," she said in the interview. "I saw her regularly–sometimes twice a week–for two years. After four years, my whole being felt better, from the inside to out."
Acupuncture has been shown in studies to help ease inflammation and manage eczema (11, 12). While Sandra mainly sees her acupuncturist for these issues, some people get acupuncture specifically for anti-aging goals, through procedures that target wrinkles (13).
If there's anything that these 8 women have shown us, it's this: you deserve to live your most vibrant, exciting, powerful, confident, and enriching life at every stage. A new chapter can begin at any moment—and that's something to celebrate.
As a writer, editor, and wellness seeker, Claire has written for Self, Health, Prevention, CNN, Mic, Livestrong, and Greatist, just to name a few. When she's not writing, she specializes in traveling, getting lost in health-related research rabbit holes, and finding new ways to spoil her cat.
Medical Disclaimer
This content is for informational and educational purposes only. It is not intended to provide medical advice or to take the place of such advice or treatment from a personal physician. All readers/viewers of this content are advised to consult their doctors or qualified health professionals regarding specific health questions. Neither Dr. Chad Walding nor the publisher of this content takes responsibility for possible health consequences of any person or persons reading or following the information in this educational content. All viewers of this content, especially those taking prescription or over-the-counter medications, should consult their physicians before beginning any nutrition, supplement, or lifestyle program.