back to The Path
Recipes
Nourish you and those you love with real, whole food.
Consider this your favorite (digital) cookbook. All of the recipes are gluten-free, dairy-free, and sugar-free, with options for Paleo, Keto, and Vegetarian, too. Whatever recipe you choose, you can rest assured that it has the cleanest, good-for-you ingredients that Mother Nature has to offer. Join in from your kitchen and tag your recreations on social media: #nativepath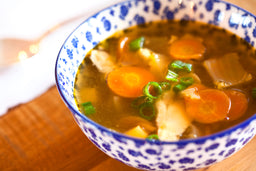 This age-old cold cure is here to stay! With a flavorful broth that is loaded with nutrients, garlic to boost immunity, and seasonings to add flavor...this will be your "go-to" cup of warmth for cold and flu season.
This savory broth is great to keep on hand to warm you up and boost immunity and digestion. Sip when you're cold or when you need a digestive boost, this is a classic you'll want on hand all Winter long.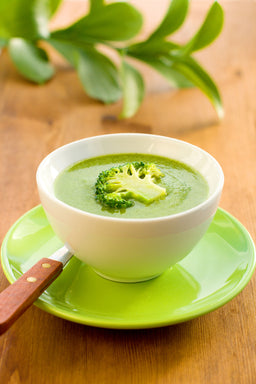 What a tasty way to get in your veggies! This low carb, high nutrient soup will satisfy you for hours. Loaded with good for you fats, this is a must for a health-conscious person!
This rich creamy soup is loaded with flavor and nutrients as in Vitamin C that helps with collagen production, fiber to keep you full, and garlic to ward off colds and keep your immune system boosted.
This vitamin and nutrient-rich soup will fill you up and ward off inflammation. Loaded with tasty ancient spices as in garlic, ginger, curry, and bone broth that helps with chronic issues as in pain, digestive stress and weight gain...you'll be happy to indulge in a cup or a bowl!
The ancient practice of simmering bones, and connective tissues of beef, chicken, and even fish have shown to have healing properties. When simmered for hours, the marrow releases antiinflammatory agents that calm leaky gut, reduce joint pain, and is loaded with collagen where the building blocks of protein are found.
Prep Time: 10 Minutes  Cook Time: 24–48 Hours  Yield: 3–4 Cups  Ingredients 4  Lbs.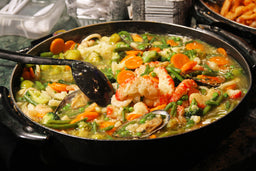 Are you aware that besides protein, shrimp is loaded with Astaxanthin that is a powerful anti-aging nutrient? In addition to helping with heart and brain health, shrimp helps to ward off eye fatigue and other age related eye issues.
This low carb dish will keep you full while supplying a host of other nutrients needed for stellar health and weight loss.
This cold weather favorite is now a healthy choice! With high protein and healthy fats, this seafood soup will keep you full and satisfied!
Curries have been used for centuries as healing herbs from nature. We now know that the benefits have anti-inflammatory properties, and are a great asset in cooking and overall wellness. This soup is loaded with flavor, healthy fats and protein, and will surely please your palate, AND your health.
Serves 4 Total prep and cook time: 35 minutes Ingredients 3 Tbsp chicken fat  3/4 lb chicken breast, boneless and cut in slices • 1/2 cup fresh cilantro  1 large piece of fresh ginger 3 Cups chicken stock or broth ...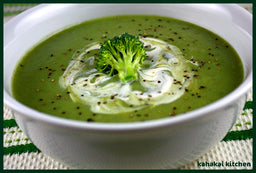 Serves 6 Cook time: 35 Minutes Ingredients 2 tbsp.